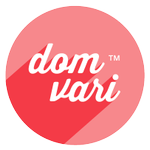 Dominique Vari Words
Creator of Inspirational and Positive Art for Home Decor, Stationery and Accessories Exploring innovative artistic styles with a passion for Nature, words, colours & textures.
In this shop, you will discover my typographic and graphic work, including words to live by, word images as well as minimal graphic patterns and designs. Enjoy!
You can also visit https://society6.com/dominiquevari to find out more
Follow me on https://www.instagram.com/dominiquevari/ Visit linktr.ee/dominiquevari
Read more
Prints by Dominique Vari Words
150 results
Filter